Young Lake
Thinking of buying on Young Lake? Our guide to Young Lake real estate below will help you decide if this is the lake for you! If it is, we would be happy to send you any new listings that come up. Just click here. We promise not to hassle you!
Pros:
Affordable
Most lots are large and level
High proportion of year-round residents
Cons:
Not a large lake
Shallow near the shoreline
Lack of wilderness feel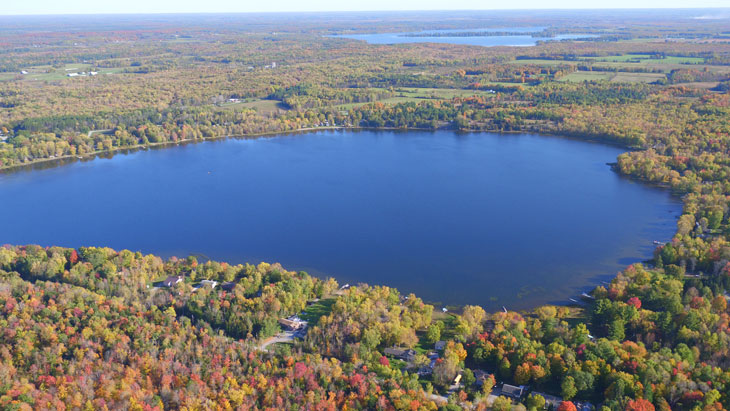 Geography
Young Lake is located on the western edge of the City of Kawartha Lakes, just north of Lake Dalrymple and a short drive from Orillia. It is a small and circular in shape, with a diameter of approximately 1 kilometer and a surface area of 200 acres.
Young Lake is primarily a spring-fed lake with two small creeks flowing in at the southern end of the lake. A small creek exits the lake at its north end and flows northward into the Head River.
The terrain around Young Lake is quite flat, and the lots tend to be level with shallow waterfront near the shoreline. Water depths are consistently between 20 – 30 feet deep in the middle sections of the lake.
Density
There are approximately 65 waterfront properties on Young Lake. Many of the lots are one acre or more in size, with significant depth and/or waterfront footage.
The proportion of waterfront properties on the lake that are occupied on a full-time basis is higher than on many other lakes in the western Kawarthas. This gives the lake a less "cottagey" feel than some of the other recreational lakes in the western Kawarthas. Most areas of the lake are easily reached by year-round roads that are municipally maintained, although the driveways can be long on some of the deeper lots.
Water Levels
As it is primarily a spring-fed lake, water levels on Young Lake can fluctuate depending on the amount of precipitation received during the summer season. Water levels are normally highest after the spring run-off and decrease gradually to normal levels through the summer months.
Affordability
Young Lake is one of the more affordable lakes in the western Kawarthas, although sales volumes are usually low due to the relatively small number of properties on the lake. There have been 11 sales on the lake since 2020 at prices ranging from $340,000 to $1,280,000.
Recreation
Watersports – Young Lake is large enough for watersports such as waterskiing and wakeboarding – there are no shoals and waves are not an issue.
Fishing – Bass, Walleye, Pike and Perch are all found in Young Lake.
Swimming – There is plenty of child-friendly swimming with sandy/silty bottom on both Upper and Lower Lake Dalrymple. Adults will have to walk out a fair distance to find deeper water. The relative shallowness of the lake means that the water warms up quickly.
Bird Watching – The almost 20 sq. km. Carden Alvar Provincial Park is located just east of Lake Dalrymple and is a birdwatcher's paradise. Public access is available via two hiking trails along the bordering fence lines. There is parking and washroom facilities at the trail head.
Entertainment – Casino Rama is an easy 20 minute drive away.
Bugs
Insect populations are relatively low on Young Lake due to its location in the limestone region just south of the Canadian Shield. Blackflies emerge in early May and usually disappear in a couple of weeks or after a few days of warm weather. Mosquitoes follow in late May and their numbers are reduced once the dragonflies hatch in June. You may see deerflies in July in wooded areas. Insect levels generally decline drastically in August, and the glorious days of September and October are usually bug-free.
Services
A full range of shopping and services is available in Orillia (25 minutes).