Moore Lake
Thinking of buying on Moore Lake? Our guide to Moore Lake real estate below will help you decide if this is the lake for you! If it is, we would be happy to send you any new listings that come up. Just click here. We promise not to hassle you!
Pros:
Closest Haliburton Lake to the GTA
Clean, deep water
Many affordable properties
Cons:
Highway noise for properties close to Hwy 35
Relatively high cottage density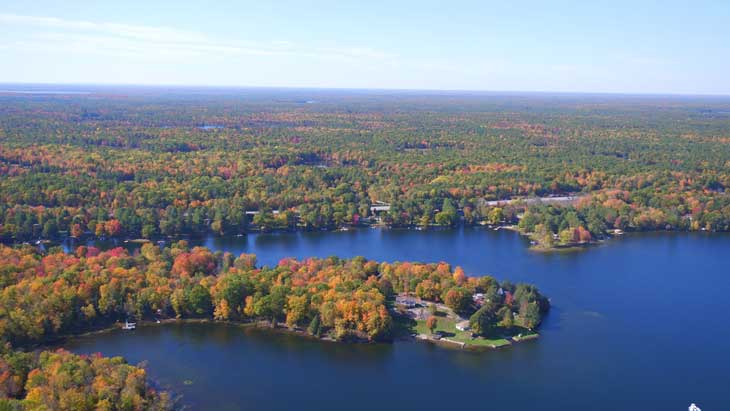 Geography
Moore Lake is located near the southern boundary of Haliburton County just east of Highway 35. Moore Lake forms part of the Gull River System, a large watershed that originates further north in Haliburton. The Gull River enters Moore Lake from the north at Moore Falls, and exits at its extreme southern end.
Moore Lake is approximately 3 kilometers in length and 2 kilometers in width, with 440 acres of surface area. It is divided into two sections by a long peninsula extending from the northern shore. The eastern portion is often referred to as East Moore Lake. Boats can easily travel between these two sections and can also navigate the small river that leads into Black Lake just to the west of Moore Lake on the other side of Highway 35. The Gull River is also navigable south to the Elliot Falls dam just north of Norland.
Moore Lake lies entirely in the Precambrian country that is prevails across Haliburton. Rugged granite topography dominates, although there are plenty of level lots with sandy waterfront. The water is deep and clean, with a maximum depth of 72 feet.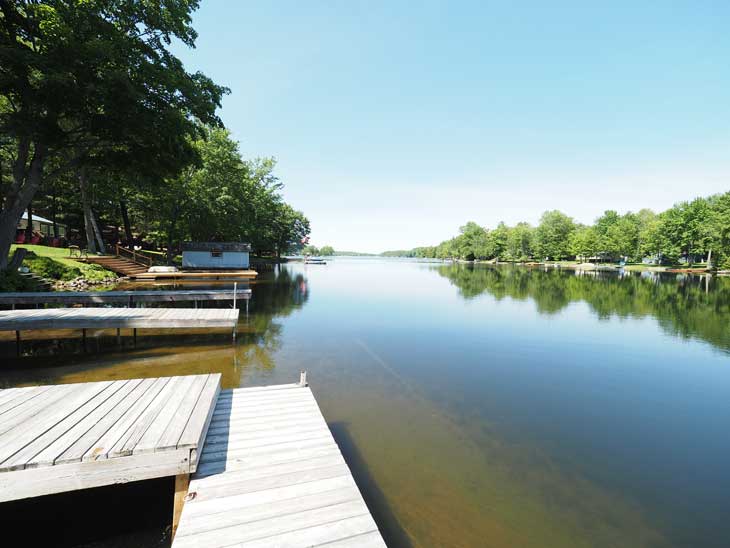 Density
There are approximately 165 waterfront properties on Moore Lake, and the resultant density of 3.0 acres per cottage is relatively high in comparison to some of the larger recreational lakes in the area.
The number of year-round residents on Moore Lake is relatively low compared to other lakes further south in the western Kawarthas. However, its relative proximity to Highway 35 and to services in Minden and Lindsay are making it more popular for year-round residency.
Highway noise can be an issue on some of the properties very near to Highway 35, primarily on Friday and Sunday evenings during the summer months.
Water Levels
Water levels on Moore Lake are controlled through dams operated by Parks Canada. Water levels are normally lowered in the late fall and remain stable through to the early spring months. Water levels typically increase substantially for a week or two during the spring run-off in early May before returning to normal levels usually around the May long weekend. Water levels generally remain stable through the summer months, but can vary depending on the rainfall amounts.
Affordability
Moore Lake is quite affordable in comparison to some of the larger nearby lakes in Haliburton. There is a wide range of properties available, from relatively inexpensive seasonal cottages to substantial year-round properties on large lots. Since 2020 there have been 10 MLS sales on the lake, ranging in price from $380,000 to $1,775,000.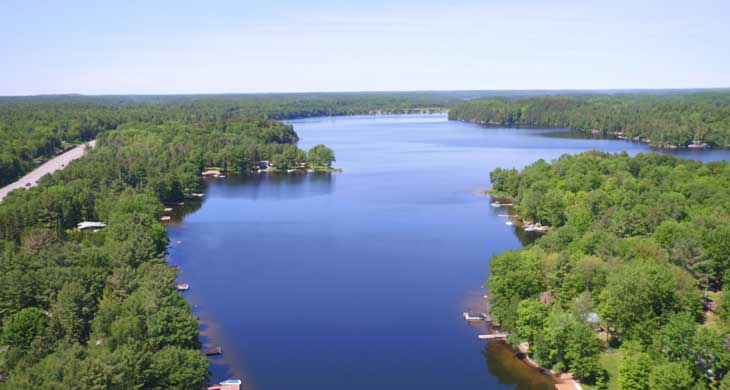 Recreation
Watersports – Moore Lake is excellent for watersports such as wakeboarding as there are few shoals and large waves are normally not an issue.
There is an abundance of interesting shoreline on Moore Lake to explore by boat, kayak or paddle board, and it is easy to travel longer distances into Black Lake or south down the Gull River.
Fishing – Moore Lake is stocked with Lake Trout and it is also possible to catch Bass, Walleye and Perch.
Swimming – The swimming is great on most parts of Moore Lake, as there is plenty of shallow entry sandy shoreline for children, and the water deepens quickly for adult swimming. The quick flow-through from the Gull River means that the water doesn't stagnate and remains nice and clear.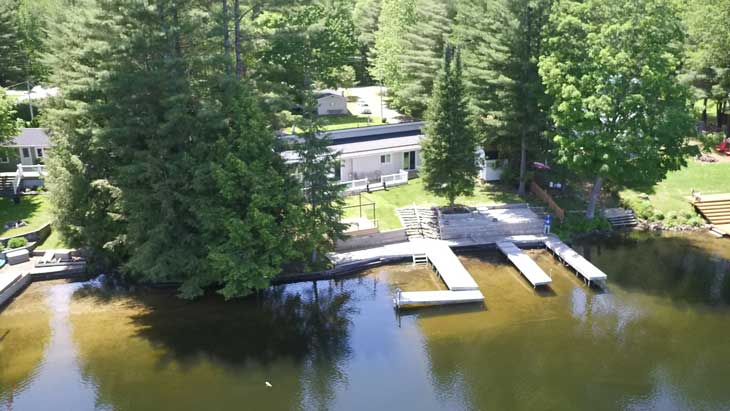 Services
There is a convenience store and gas station in Norland (5 minutes). Groceries, hardware stores and an LCBO are in Coboconk (15 minutes). There is much more substantial shopping and a hospital in Minden (15 min).