Burnt River
Thinking of buying on Burnt River? Our guide to Burnt River real estate below will help you decide if this is the waterfront for you! If it is, we would be happy to send you any new listings that come up. Just click here. We promise not to hassle you!
Pros:
Inexpensive
Access to the Trent-Severn Waterway
Good swimming
Cons:
Spring floods
Less privacy than lake-front properties
No lake vistas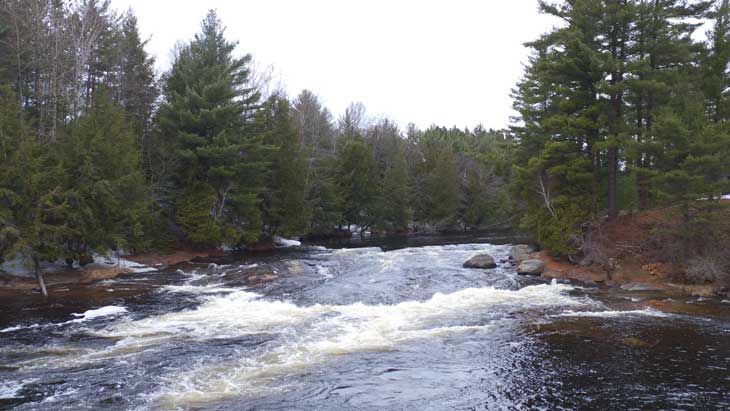 Geography
The Burnt River begins its journey at the outlet of Canning Lake near Minden and is joined by the Irondale River just north of Kinmount. It becomes a quite substantial and deep river as it flows south and empties into the northern end of Cameron lake. There are a few sets of rapids on the river between Kinmount and the village of Burnt River, after which the river becomes navigable by boat to its outlet at Cameron Lake.
History
Originally settled in the 1830s, the first name of the community of Burnt River was "Rettie's Crossing," after local settler Alexander Rettie. The name Burnt River came to be after an unfortunate accident occurred in the 1920s when a gentleman drove his truck into the town gas station and severed the lines connected to the gasoline storage tank. The gasoline was almost immediately ignited, and flowed like a river, down the main street engulfing everything it touched in flames, until it poured into and spread across the fast-moving river. According to local legend, there were 18 miles of "Burnt River" stretching from there to Cameron Lake. Shortly after this, the Post Office changed its name to "Burnt River," and the former village of "Rettie's Bridge" to the north became known as "Kinmount".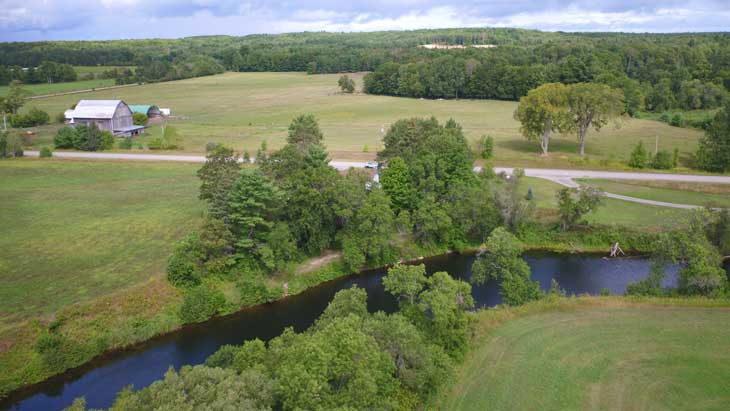 Density
There are approximately 500 waterfront properties along the Burnt River between Kinmount and its outlet on Cameron Lake to the south. Density along the river varies, with cottages and homes on both sides of the river in some areas and on only one side in other areas. Lots typically have 100 feet of frontage. There are many year-round residents along the Burnt River, with some streets such as Evans, Black Bear and Moorings having an especially high proportion. Streets further north near the village of Burnt River have a lower proportion of year-round residents. Most properties on the lake are easily accessed by year-round roads that are maintained either municipally or by road associations.
Water Levels
Spring flooding is a fact of life for many waterfront property owners along the Burnt River. Flooding in 2019 was especially severe, with the highest water levels on record. It is important to note that not all properties along the Burnt River are on a flood plain, and that the propensity of a property to flooding is very site- and street-specific. Water levels generally peak between mid-April and early May, and then quickly fall to normal levels and remain so throughout the summer months. Parks Canada has a water level monitoring station near the village of Burnt River, and you can track real-time and historical water levels via the link below: https://wateroffice.ec.gc.ca/report/real_time_e.html?stn=02HF003
Many property owners on the flood plain have taken steps to reduce the risk of flood damage including raising their home and/or building perimeter walls around their foundation.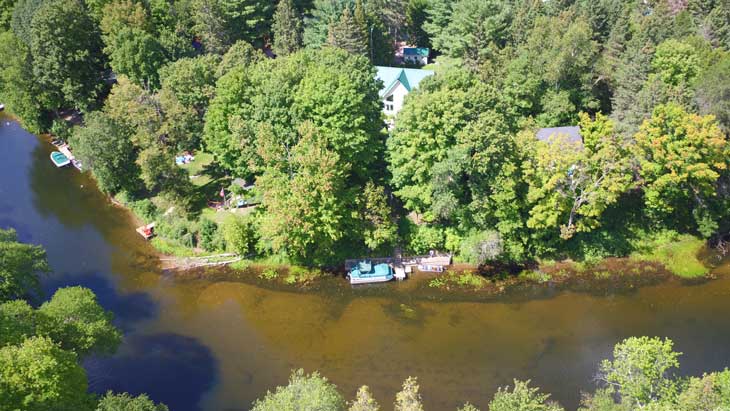 Affordability
Burnt River properties are among the least expensive waterfront properties in the western Kawarthas. You can expect to pay in the neighbourhood of $350,000 to $750,000 for a three-season cottage, while an updated year-round cottage or home will generally cost between $850,000 to $1,500,000. Refer to our market value update section for more detailed information on prices and market activity.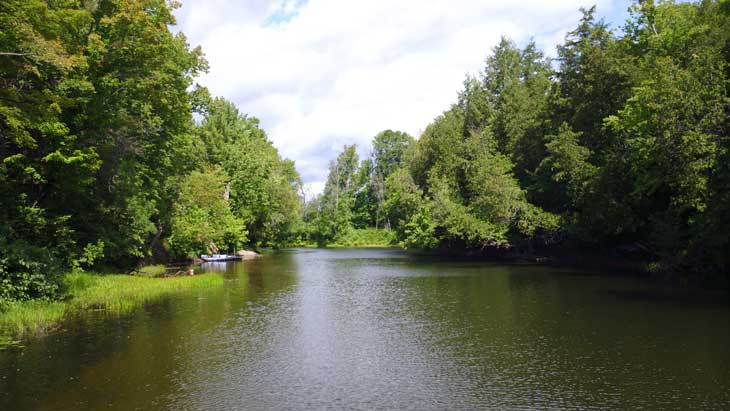 Recreation
Watersports – Pontoon boats are a common sight along the Burnt River. Speed limits are in force along the river, so watersports requiring speed are not permitted.
Fishing – Bass and pike are the most common fish caught in the Burnt River.
Swimming – The Burnt River is deep and weed-free along much of its length, and combined with its gentle current make for great teen-age and adult swimming. The banks of the River are often steep, which makes wading and swimming for children more problematic.
Hiking – The 85 km long Victoria Rail Trail is easily accessible along most sections of the Burnt River, and makes for great hiking and cycling.
Winter activities – Snowmobilers can also use the Victoria Rail Trail in winter to access the large network of trails further north near the village of Burnt River.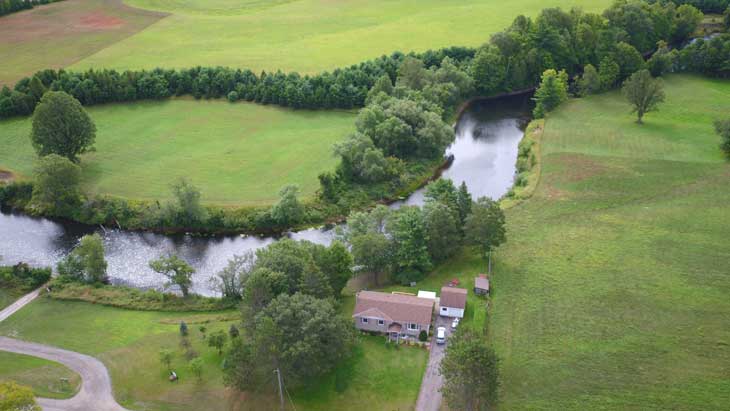 Bugs
Insect populations are relatively low on the Burnt River as there is little standing water. Blackflies emerge in early May and usually disappear in a couple of weeks or after a few days of warm weather. Mosquitoes follow in late May and their numbers are reduced once the dragonflies hatch in June. You may see deerflies in July in wooded areas. Insect levels generally decline drastically in August, and the glorious days of September and October are usually bug-free.
Services
Property owners near the southern sections of the river will normally drive to Fenelon Falls for groceries and other services (10 – 15 minutes). Kinmount and Coboconk are a 10 – 15 minutes drive for property owners on the more northerly sections.
Learn more about: