Shadow Lake System
Thinking of buying on Shadow Lake? Our guide to Shadow Lake real estate below will help you decide if this is the lake for you! If it is, we would be happy to send you any new listings that come up. Just click here. We promise not to hassle you!
Pros:
Clean, clear water
Great for watersports
Picturesque shoreline
Cons:
There can be plenty of boat traffic on weekends
Water levels can vary
Occasional highway noise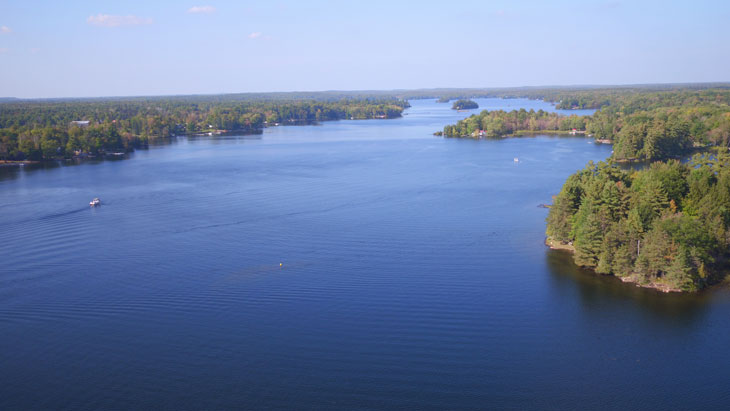 Geography
Shadow Lake (and neighbouring Silver Lake to the south) is located between the communities of Norland at the north end of the lake and Coboconk at the south end. The lake is eleven kilometres long and averages one kilometer wide.
Shadow Lake forms part of the Gull River, which originates in Haliburton and flows south into Gull Lake, then Moore Lake, before entering Shadow Lake below the 12-foot dam at the crossroads in Norland. The flow continues south through Silver Lake and then over the falls in Coboconk before flowing into Balsam Lake on the Trent-Severn Waterway.
Shadow Lake is located in the transition zone between the limestone topography to the south and the Precambrian country to the north and as a result has a great variety of waterfront types ranging from level landscaped lots to rugged granite shoreline.
Shadow Lake is deeper than many of the lakes in the western Kawarthas, with a maximum depth of 75 feet.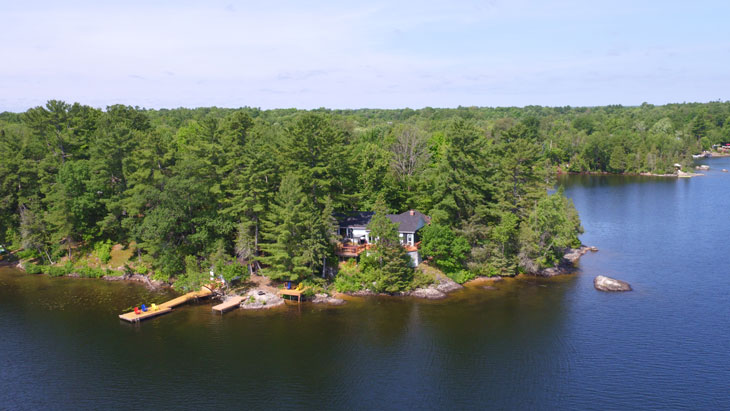 Density
There are approximately 600 properties along the 41 kilometers of shoreline between Norland and Coboconk. This relatively high cottage density is noticeable primarily on summer weekend afternoons, when boat traffic can be quite heavy. The lake is quiet and placid most other times.
The number of full-time residents on Shadow Lake is low compared to other major lakes in the western Kawarthas. However, the western shore with its easy access to Highway 35 and related services is rapidly becoming more popular for full-time living. Most properties on the lake are easily accessed by year-round roads that are maintained either municipally or by road associations.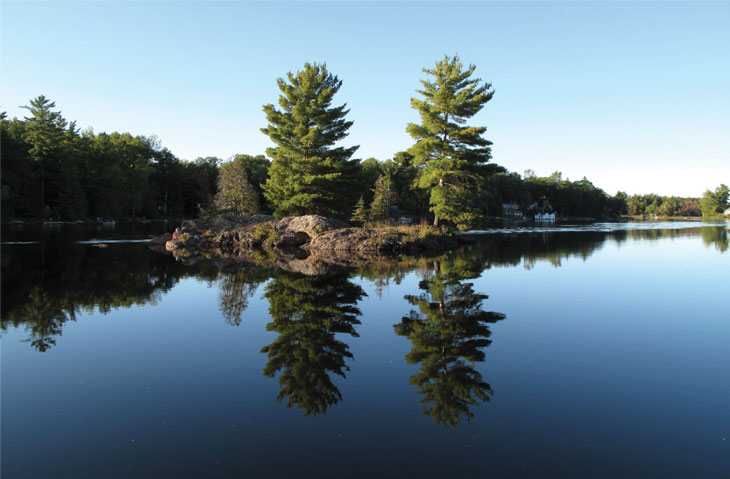 Water Levels
Water levels on the Gull River/Shadow Lake system are controlled through dams operated by Parks Canada. Water levels are normally lowered in the late fall and remain stable through to the early spring months. Water levels typically increase substantially for a week or two during the spring run-off in early May before returning to normal levels usually around the May long weekend. Water levels generally remain stable through the summer months, but can vary depending on the rainfall amounts. Flooding is not normally an issue on Shadow Lake, although low-lying sections of the Gull River near Norland can be susceptible during the spring run-off.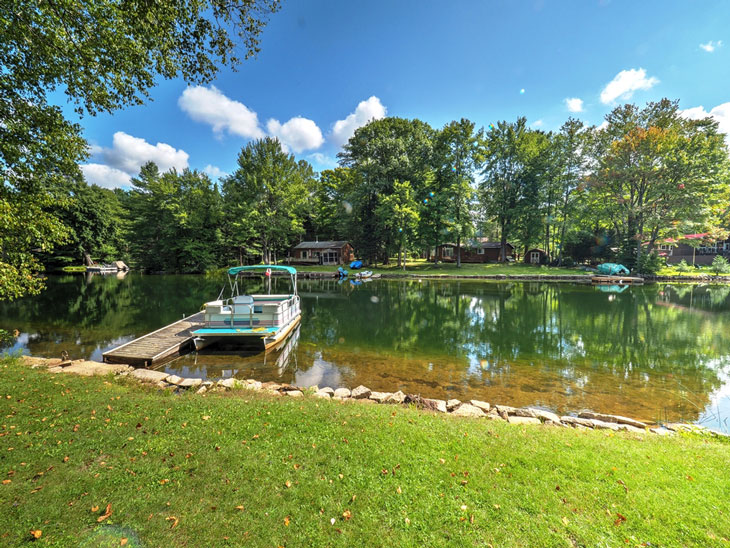 Affordability
The Shadow Lake System is a very popular recreational area that occupies the middle-range of affordability among lakes in the western Kawarthas. You can expect to pay in the neighbourhood of $750,000 to $900,000 for a three-season cottage on Shadow and Silver lakes, while an updated year-round cottage or home will generally cost between $1,000,000 to $2,000,000. Prices along the Gull River sections can be substantially less, with three season cottages costing between $650,000 to $750,000 and year-round properties between $750,000 and $1,250,000. Refer to our market value update section for more detailed information on market activity.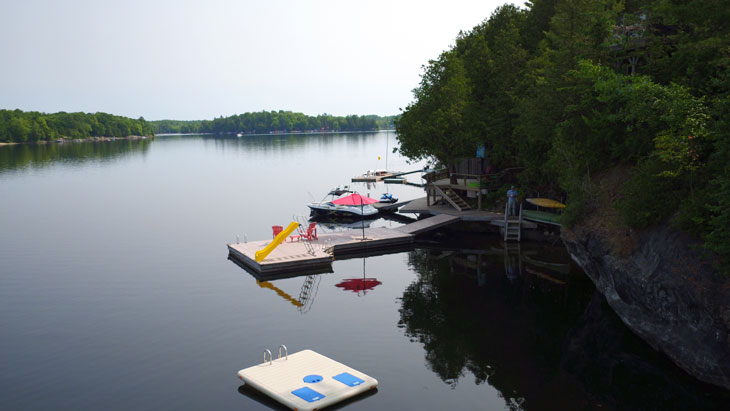 Recreation
Watersports – Shadow Lake is terrific for watersports as its north/south orientation and relatively narrow width mean there are rarely large waves. There are only a few underwater shoals, and these are marked during the boating season.
Fishing - Shadow Lake has good fishing for Smallmouth Bass, Walleye and Muskie.
Swimming – There is a great variation of waterfront types along the shores of Shadow Lake – from child-friendly shallow-entry sandy beaches to teenage and adult-friendly deep water off granite shores. The Gull River sections of the Shadow Lake system also generally has very good deep-water swimming in the gentle current.
Winter activities – Snowmobilers can access the network of groomed OFSC snowmobile trails that exist to the north of Shadow Lake. Snowmobilers should exercise caution on Shadow Lake, as moving water can result in very thin ice. Many property owners build skating rinks on the ice in the winter.
Bugs
Most areas of the Shadow Lake System have relatively low insect populations in comparison to areas further north. Blackflies emerge in early May and are usually gone in a couple of weeks or after a few days of warm weather. Mosquitoes follow in late May and their numbers are reduced once the dragonflies hatch in June. You may see deerflies in July in wooded areas. Insect levels generally decline drastically in August, and the glorious days of September and October are usually bug-free.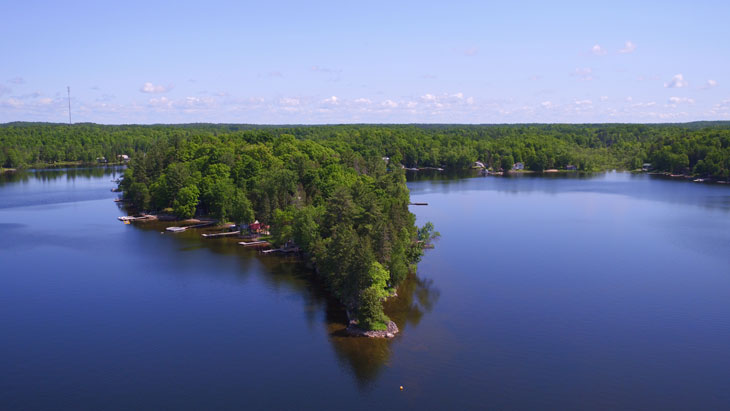 Services
There are convenience stores in nearby Norland. Groceries, hardware stores and an LCBO are in Coboconk (5-10 minutes). There is much more substantial shopping and hospitals in Minden (30 minutes north) and Lindsay (30 minutes south).
> Real Estate on Shadow Lake ~ Market value update
Photo of Shadow Lake, Ontario by: RichardBH - No alterations made, Creative Commons