Four Mile Lake
Thinking of buying on Four Mile Lake? Our guide to Four Mile Lake real estate below will help you decide if this is the lake for you! If it is, we would be happy to send you any new listings that come up. Just click here. We promise not to hassle you!
Pros:
Clear, spring-fed water
Great for watersports
Picturesque shoreline
Cons:
Steep to the water in some areas
No boat access to other lakes
Zebra mussels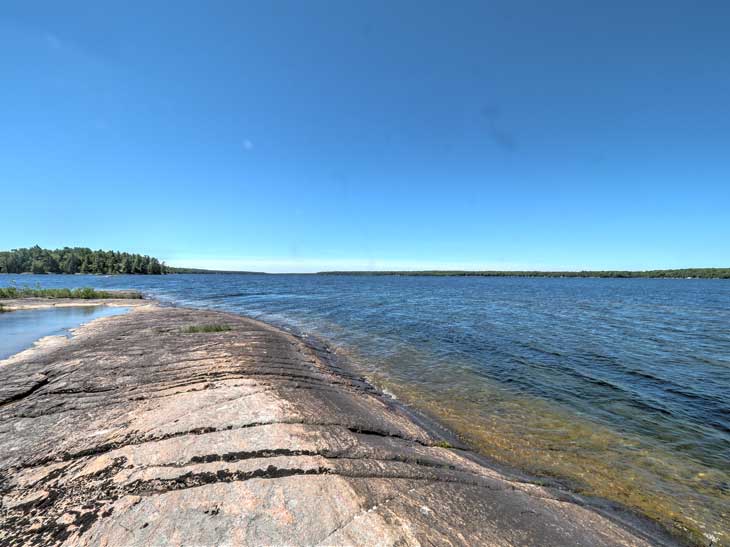 Geography
Four Mile Lake is located just east of Shadow Lake and the village of Coboconk. As per its name, it is four miles long and approximately one mile wide. Four Mile Lake is noteworthy in that it is a relatively high elevation lake, and there are no major rivers or streams that flow into the lake. Instead it is a spring-fed lake with most of the inflow coming from the undeveloped north-west corner of the lake. Corben Creek flows out of the lake at its southern end and empties into Balsam Lake to the south-west.
Four Mile Lake straddles the transition zone between the limestone belt to the south and the granite topography to the north. The transition is extremely abrupt on Four Mile Lake and divides the lake into two distinct regions. The limestone-shored southern half is generally quite rugged, and most lots are left in a natural state by their owners, providing a distinctly "cottage" vibe to the lake. Sections of both the western and eastern shores can be quite steep to the water. The southern half of the lake is much deeper than the northern half and has a maximum depth of 65 feet.
The northern half of Four Mile Lake has plenty of the smooth granite shoreline that many cottage buyers love. The lots also tend to be rugged and natural, but there is less "steepness-to-water" than in the southern half.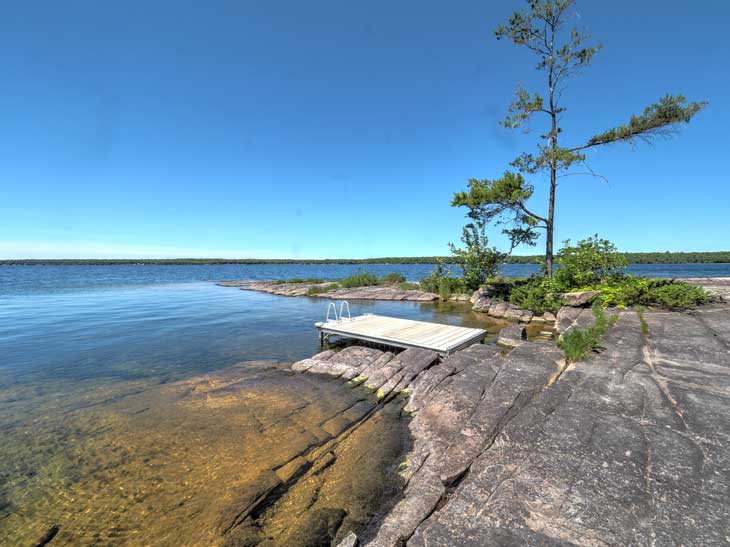 Density
There are approximately 440 cottages on Four Mile Lake's 1,940 acres of surface area, resulting in a cottage density of 4.4 acres per cottage. This places Four Mile Lake in the mid-range of lake density among the major lakes in the Western Kawarthas. As with most recreational lakes, boat traffic is most noticeable on summer weekend afternoons - the lake is quiet and placid most other times. The public boat launch has controlled hours of availability, which reduces usage by non-Four Mile Lake property owners.
The number of full-time residents on Four Mile Lake is relatively low at the present time but is increasing as many property owners upgrade their cottages to year-round residences. Most properties on the lake are easily accessed by year-round roads that are maintained either municipally or by road associations.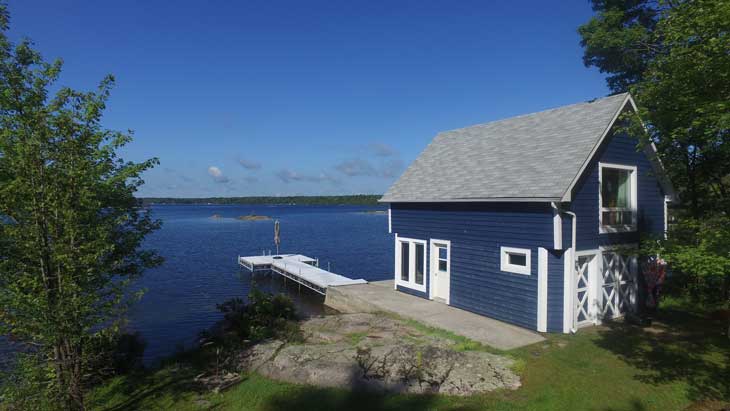 Water Levels
Water levels on Four Mile Lake do not normally experience the wide variations that are common on lakes further north. Water levels typically increase for a week or two during the spring run-off in early May before returning to normal levels through the summer months. The amount of rainfall in the summer will impact water levels. Flooding is not an issue on most areas of Four Mile Lake.
Affordability
Four Mile Lake is a very popular recreational lake and there is typically low turnover of ownership. It occupies the middle-range of affordability among lakes in the western Kawarthas - you can expect to pay in the neighbourhood of $750,000 to $1,000,000 for a three-season cottage, while an updated year-round cottage or home will generally cost between $1,000,000 to $2,000,000. Refer to our market value update section for more detailed information on market activity.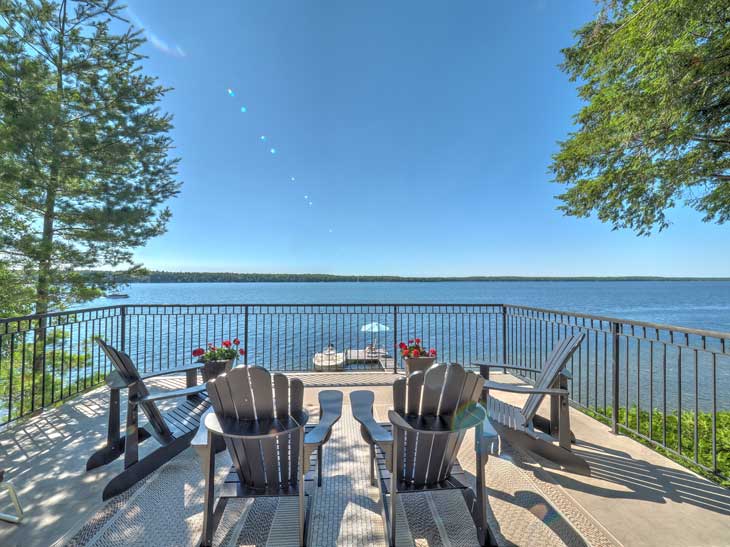 Recreation
Watersports – Four Mile Lake is terrific for watersports as there are few underwater shoals, and its north/south orientation means that the prevailing west winds do not create large waves.
Fishing – Numerous species of sport fish can be found in the lake, including largemouth bass, muskie, rock bass, smallmouth bass, yellow perch, and walleye.
Swimming – Swimming is a joy in the clear spring-fed waters of Four Mile Lake. The southern limestone region of the lake typically has very good swimming waterfront, with gradually deepening gravel/limestone bottom and few weeds. Waterfront at the shallower north-east end of the lake is more variable, with soft bottom and weedy areas predominant in the bays.
Zebra mussels are present in the lake, so it is advisable to wear water shoes when swimming.
Winter activities – Hikers, snowmobilers and ATV enthusiasts can access the 85 km Victoria Rail Trail just east of Four Mile Lake in the village of Burnt River.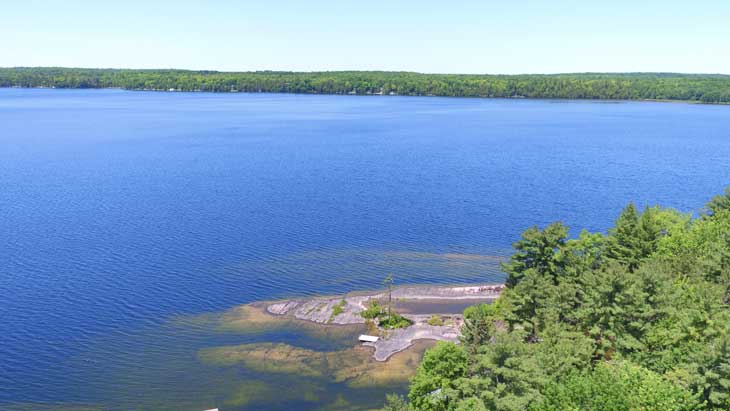 Bugs
Insect populations are relatively low on the southern limestone regions of the lake, and somewhat higher at the north end. Blackflies emerge in early May and are usually gone in a couple of weeks or after a few days of warm weather. Mosquitoes follow in late May and their numbers are reduced once the dragonflies hatch in June. You may see deerflies in July in wooded areas. Insect levels generally decline drastically in August, and the glorious days of September and October are usually bug-free.
Services
Groceries and an LCBO are in Coboconk (5-10 minutes) and Kinmount (10 -15 min). There is more substantial shopping in Fenelon Falls (15 – 20 min) and hospitals in Minden (30 minutes north) and Lindsay (30 minutes south).
> Real Estate on Four Mile Lake ~ Market Value Update
Photo of Four Mile Lake, Ontario by: Scott Gooding - No alterations made, Creative Commons