Pigeon Lake
Thinking of buying on Pigeon Lake? Our guide to Pigeon Lake real estate below will help you decide if this is the lake for you!
Pros:
Great lock-free boating opportunities
Excellent fishing
Easy drive to the GTA
Cons:
Southern sections are mostly shallow and weedy
West facing shores can be very windy
Little wilderness feel in the southern sections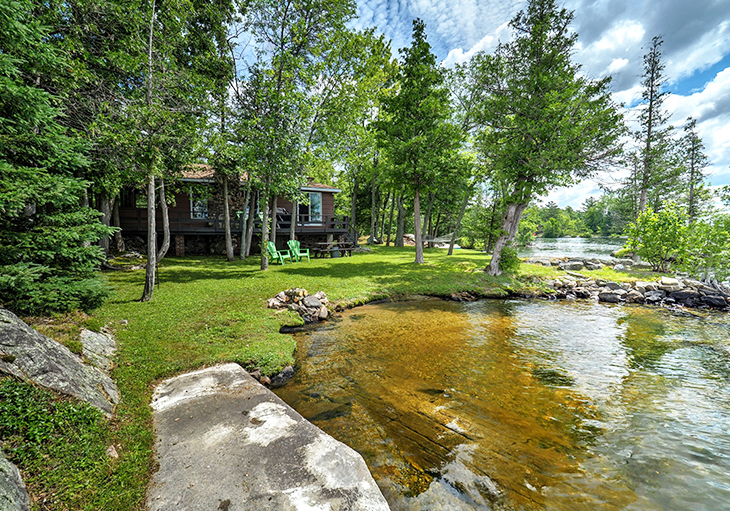 Geography
Pigeon Lake is located in the Kawartha Lakes region of south-central Ontario, lying on the boundary between the City of Kawartha Lakes on the west and Peterborough county to the east. It is a large lake that extends approximately 25 kilometres north to south, with a maximum width of 10 kilometres across the north end. The Trent-Severn Waterway flows into Pigeon Lake from Sturgeon Lake to the west and exits through Gannon Narrows to Buckhorn Lake to the east. Other main tributaries are the Pigeon River, which flows in at the south end of the lake, and Nogies Creek, which flows in at the north end.
Pigeon Lake lies fully within the relatively narrow belt of limestone topography that lies above the livestock and grain farmland to the south, and the Precambrian Canadian Shield country to the north. The limestone topography dictates the type of waterfront found on the lake - lots are most often level, although there are several steep limestone escarpments along certain shores, primarily on the western shore north of Bobcaygeon and the eastern shore opposite Boyd (Big) Island. Shorelines can be rocky or sandy, with older cottages often having concrete retaining walls. Landscaped lots with lawns and gardens are common.
Pigeon Lake is a relatively shallow lake, especially in the southern section. The northern third of the lake is deeper, with a maximum depth of 56 feet.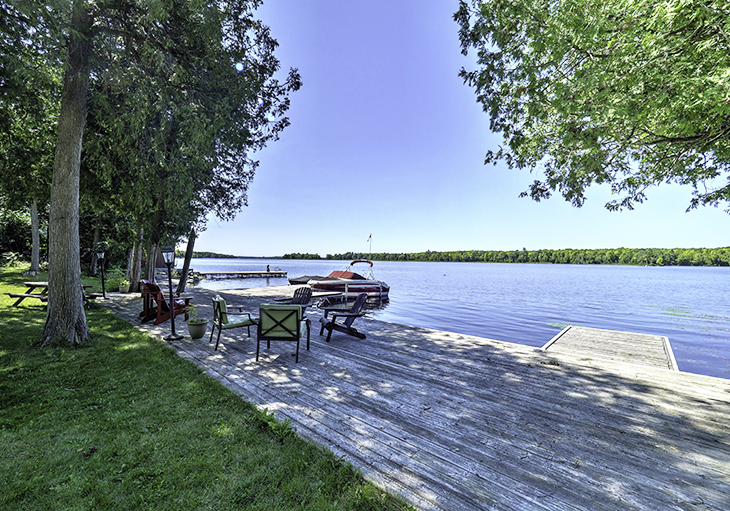 Density
There are approximately 1,250 waterfront properties on Pigeon Lake's 13,200 acres of surface area. The resulting density of 10.6 acres per property makes Pigeon Lake one of the least congested lakes in the western Kawarthas. As with most recreational lakes, boat traffic is most noticeable on summer weekend afternoons - the lake is quiet most other times.
With its proximity to services in Bobcaygeon as well as its easy access to the GTA, Pigeon Lake has become a very popular lake for year-round living. Most properties on the lake are easily accessed by year-round roads that are maintained municipally.
Water Levels
Water levels on Pigeon Lake are managed by Parks Canada and tend to be very stable. Water levels are lowered in late autumn and reach their lowest point in mid-winter – this is when shoreline work is permitted. Water levels typically increase gradually during the spring run-off and reach a peak in May before returning to normal levels through the summer months.
Flooding is normally not an issue on Pigeon Lake.
Affordability
There is a higher proportion of year-round residents on Pigeon Lake than on most other lakes in the western Kawarthas, and as a result seasonal cottage listings on the lake are relatively rare. You can expect to pay in the neighbourhood of $1,000,000 to $2,000,000 for a year-round cottage or home on the lake. Refer to our market value update section for more detailed information on prices and market activity.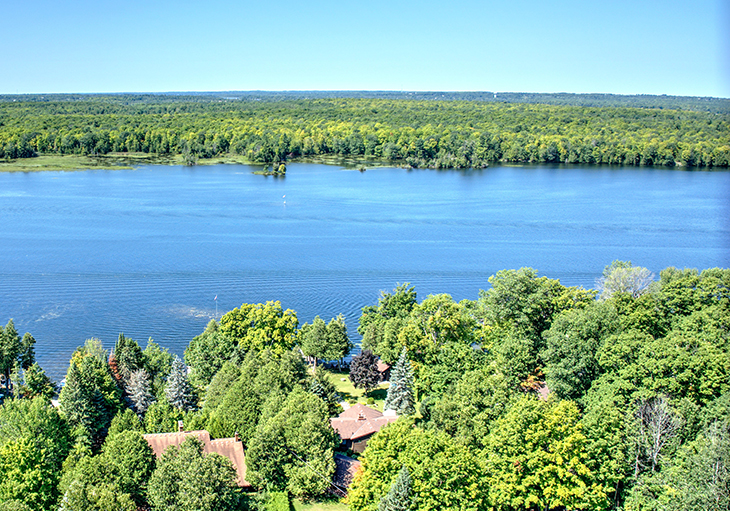 Recreation
Boating – Pigeon Lake is an ideal lake for boaters as it has access to four other lakes (Little Bald, Big Bald, Buckhorn and Chemong) without the need to travel through locks. More adventurous boaters can travel all the way to Georgian Bay to the west and Lake Ontario to the south-east.
Fishing – Pigeon Lake is a very good fishing lake as it has an abundance of fish habitat. Muskie, Bass and Walleye are the primary sport fish.
Swimming – The southern section of Pigeon Lake below Boyd island is not ideal for swimming at the waterfront is often shallow and weedy. However, there are several offshore sandbars where one can boat to and enjoy excellent swimming. The northern shores of Pigeon Lake are deeper and offer better swimming opportunities.
Hiking – Boyd Island is the largest undeveloped island in the Kawarthas at over 1,000 acres and was donated to the Kawartha Land Trust 2015. There are 8 kilometres of marked hiking trails as well as picnic sites along the shoreline.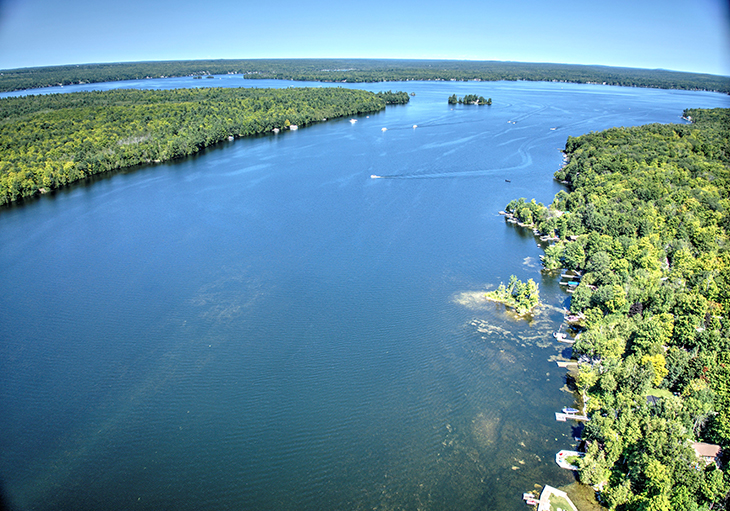 Bugs
Insect populations are relatively low on Pigeon Lake due to its location in the limestone region south of the Canadian Shield. Blackflies emerge in early May and usually disappear in a couple of weeks or after a few days of warm weather. Mosquitoes follow in late May and their numbers are reduced once the dragonflies hatch in June. You may see deerflies in July in wooded areas. Insect levels generally decline drastically in August, and the glorious days of September and October are usually bug-free.
Services
The attractive town of Bobcaygeon is located on the north-west corner of Pigeon Lake and has a wide variety of services and attractions. Property owners on the eastern shores will often boat to Bobcaygeon to avoid the longer distance drive up and around the lake, or else drive to Buckhorn to the north-east for groceries and other supplies. The larger centres of Lindsay and Peterborough are within an easy drive.
Learn more about: