Mitchell Lake
Thinking of buying on Mitchell Lake? Our guide to Mitchell Lake real estate below will help you decide if this is the lake for you! If it is, we would be happy to send you any new listings that come up. Just click here. We promise not to hassle you!
Pros:
Commuter-friendly
Great vistas over undeveloped shoreline
Lock-free access to Balsam Lake
Cons:
Shallow and stumpy in many areas
Not a recreational lake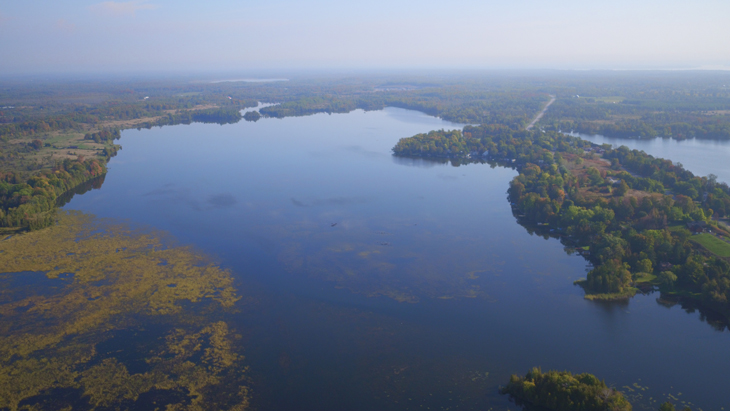 Geography
Mitchell Lake is located just downstream from the where the Trent-Severn Waterway leaves Balsam Lake on the way to the Kirkfield Lift Lock, the second highest hydraulic lift lock in the world with a lift of 15 metres (49 ft). The lock is situated at the highest point along the Waterway at 840.5 feet above sea level. The Waterway flows into Canal Lake beyond the lock.
There are two distinct bodies of water on Mitchell Lake – a southern section and a northern section that are connected by a narrow channel of the Trent-Severn Waterway. County Road 48 bisects these two sections. The village of Kirkfield lies just to the west of Mitchell Lake.
Mitchell Lake is located near the eastern edge of the Carden Alvar, a type of grassland habitat characterized by thin soils and sparse vegetation on top of limestone bedrock that is only found in a few spots in Ontario (and around the world). The Carden Alvar supports unique assemblages of species, including more than 230 bird species, 450 plants, and 140 butterfly/dragonfly species. The Carden Alvar extends for approximately 10 kilometers around Canal Lake.
Mitchell Lake was created during the construction of the Trent-Severn Waterway in the late 1800s, and as a result it is quite shallow with a maximum depth of 10 feet. The route used by large boats to navigate through the lake are marked by buoys.
The limestone topography in this region means that lots are most often level, and not steep to the water. Landscaped lots with lawns and gardens are common.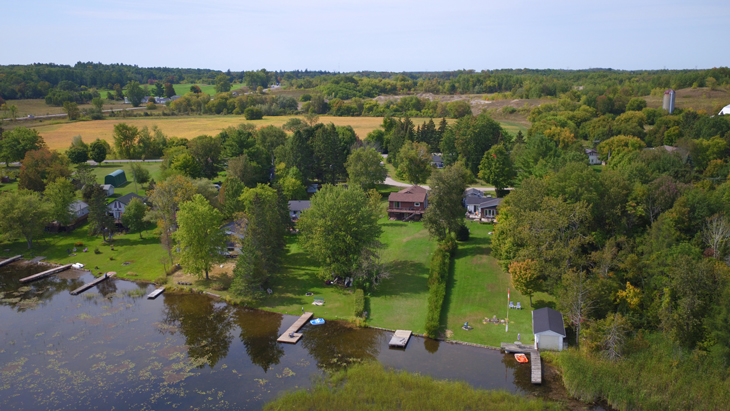 Density
There are approximately 225 waterfront properties on the 775 acres of surface area on Mitchell lake. The resulting density of 3.2 acres per waterfront property is higher than most lakes in the western Kawarthas. However, as Mitchell Lake is not a typical recreational lake, you will not notice large amounts of boat traffic on summer weekends like you will on some other lakes in the region.
The number of full-time residents on Mitchell Lake has increased significantly in the past decade as it has become popular for people who wish to live on waterfront while commuting to work in the northern reaches of the GTA, or in the Newmarket and Orillia areas. Most areas of the lake are easily accessed by year-round roads that are maintained either municipally or by road associations.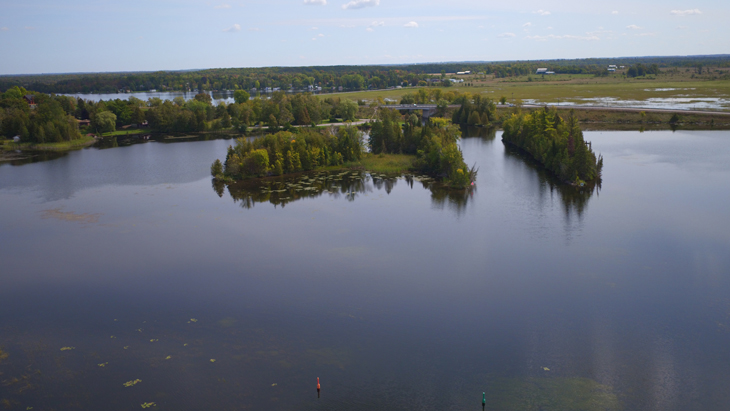 Water Levels
Water levels on Mitchell Lake are managed by Parks Canada and are very predictable owing to its location near the top of the Trent-Severn Waterway. Water levels are lowered in late autumn and reach their lowest point in mid-winter through early spring. At this time, the shallower sections of the lake are devoid of water, and stumps dating back to the creation of the Waterway become visible. Water levels typically increase gradually during the spring run-off and reach a peak in May before returning to normal levels through the summer months. Flooding is not an issue on Mitchell Lake.
Affordability
Mitchell Lake is one of the most affordable lakes in the western Kawarthas. You can expect to pay in the neighbourhood of $550,000 to $750,000 for a three-season cottage, while a year-round cottage or home will generally cost between $750,000 to $1,200,000. Refer to our market value update section for more detailed information on market activity.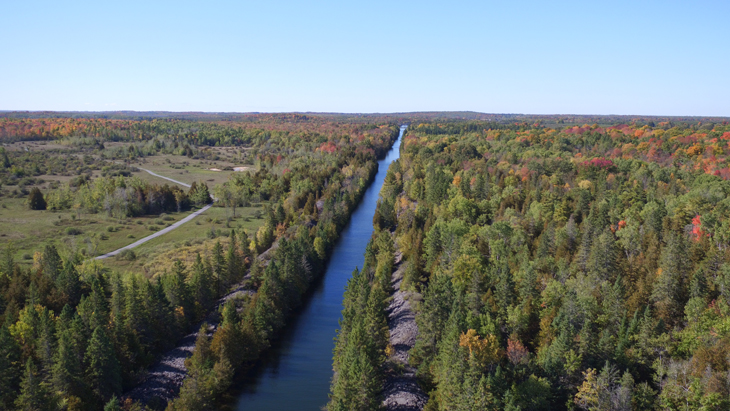 Recreation
Watersports – Mitchell Lake is not well-suited for watersports due to its lack of water depth. However, the magnificently recreational Balsam Lake is a short boat trip up the narrow and scenic 3 kilometer straight-as-an-arrow stretch of the Trent-Severn Waterway.
Fishing – Fishing for Bass and Muskie is excellent on Mitchell Lake.
Bird Watching – The almost 20 sq. km. Carden Alvar Provincial Park is located just north-west of Mitchell Lake and is a birdwatcher's paradise. Public access is available via two hiking trails along the bordering fence lines. There is parking and washroom facilities at the trail head.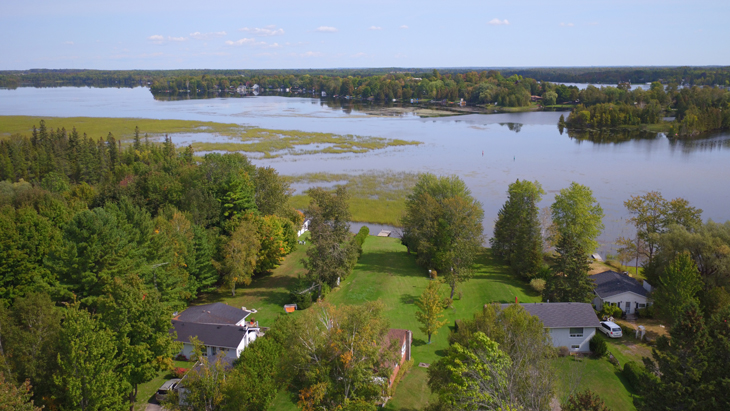 Bugs
Insect populations are relatively low on Mitchell Lake due to its location in the limestone region south of the Canadian Shield. Blackflies emerge in early May and usually disappear in a couple of weeks or after a few days of warm weather. Mosquitoes follow in late May and their numbers are reduced once the dragonflies hatch in June. You may see deerflies in July in wooded areas. Insect levels generally decline drastically in August, and the glorious days of September and October are usually bug-free.
Services
There is a grocery store in Kirkfield, and a full range of services in Coboconk (15 minutes to the west) and Beaverton (20 minutes to the east).
Learn more about: