Rush Lake
Thinking of buying on Rush Lake? Our guide to Rush Lake real estate below will help you decide if this is the lake for you! If it is, we would be happy to send you any new listings that come up. Just click here. We promise not to hassle you!
Pros:
Very Quiet
Good child-friendly swimming
Lovely west-facing views of undeveloped shoreline
Cons:
Very small
Shallow
Few properties come up for sale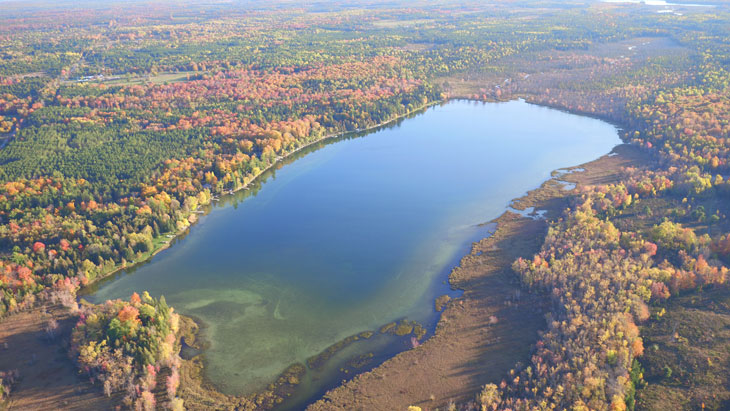 Geography
Rush Lake is a small lake just south of Head Lake. It is approximately 1 kilometer long by 0.5 kilometers wide, with 100 acres of surface area. Rush Creek flows out of the north end of the lake into Head Lake. There is a culvert where a municipal road passes over Rush Creek that restricts boat travel between Rush Lake and Head Lake.
Water flows into Rush Lake from Duck Lake to the south.
Rush Lake lies at the northern extremity of the limestone topography, which transitions to the Precambrian granite topography on Head Lake. Lots on Rush Lake are therefore very level and not steep to the water.
Density
There are approximately 38 waterfront properties on Rush Lake. All of the Rush Lake properties lie on the eastern shore and have lovely west-facing vistas across the lake to the undeveloped western shoreline.
There are a number of year-round residents on Rush Lake, although most properties are used on a seasonal basis. Properties on the lake are easily accessed by a year-round road that is maintained municipally.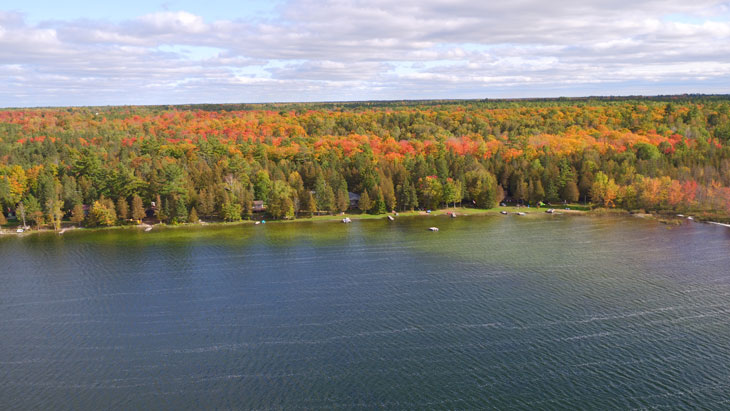 Water Levels
Water levels on Rush Lake are more stable than average, due primarily to a dam that helps control water levels on Head Lake. Water levels are typically highest during the spring run-off and tend to lower gradually throughout the summer.
Affordability
Rush Lake is one of the more affordable areas of the western Kawarthas. Six properties have sold on Rush Lake since 2020, at prices ranging from $460,000 to $1,225,000.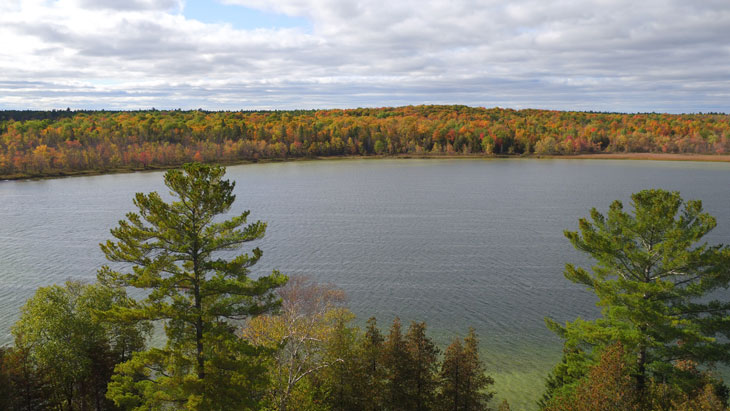 Recreation
Watersports – While Rush Lake is not motor restricted, it is only practical for smaller motorized boats. Canoeing and kayaking along the long stretches of undeveloped shoreline is pleasant.
Fishing – Bass and small Muskie are present in the lake.
Swimming – The shallow entry and sand/silt bottom make for great child-friendly swimming.
Snowmobiling – There is tremendous snowmobiling on the many scenic trails in the 83,000 acre Queen Elizabeth II Wildlands Provincial Park, which abuts the north shore of Head Lake. These trails are ungroomed and shouldn't be travelled on until the lakes and swampy areas are solidly frozen (usually by mid-January). You can also access the vast network of OFSC snowmobile trails along the south and east shores of Head Lake.
Services
There is a convenience store in Norland (10 minutes). Groceries, hardware stores and an LCBO are in Coboconk (20 minutes). There is much more substantial shopping and a hospital in Minden (30 min).