Crystal Lake
Thinking of buying on Crystal Lake? Our guide to Crystal Lake real estate below will help you decide if this is the lake for you!
Pros:
Deep, spring-fed lake
Perfect for water sports
Abundant ATV/Snowmobile trails
Cons:
Many long bays mean limited big lake vistas
Water levels drop substantially in the fall
Last section of drive off Hwy 121 can be tiresome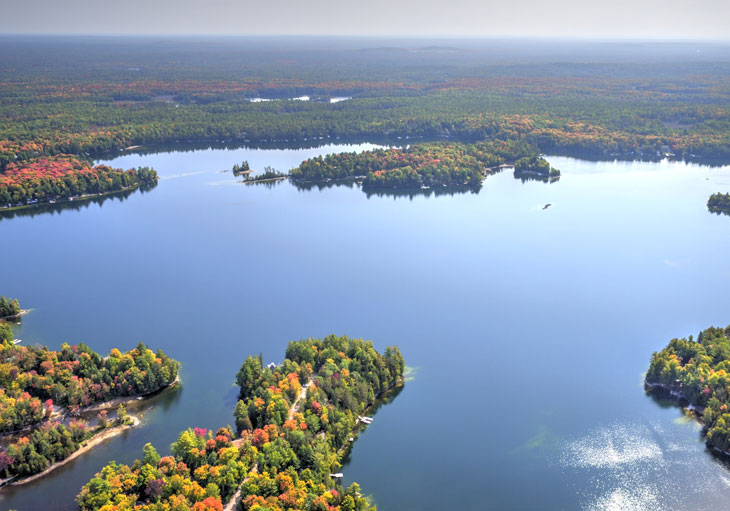 Geography
Crystal Lake is located in the north-west corner of Peterborough County. While technically part of the Kawarthas, Crystal Lake resides in Precambrian Shield country and thus shares characteristics similar to Haliburton and Muskoka lakes. Rugged granite topography dominates, although there are plenty of level lots. The water is deep and clean, with a maximum depth of 160 feet.
Density
Crystal Lake has 26 miles of shoreline on along its many deep bays, with approximately 500 waterfront properties on its 1,100 acres of surface area. The resulting density of 2.2 acres of surface area per property makes Crystal Lake one of the higher density lakes in the western Kawarthas. As with most recreational lakes, boat traffic is most noticeable on summer weekend afternoons - the lake is quiet most other times.
Crystal Lake has a low proportion of year round residents relative to other lakes in the western Kawarthas. This is due primarily to its longer travel distance to services in Kinmount, Minden and Bobcaygeon, and the fact that some of the roads on the north shore of the lake are hilly and not easily traversed in the winter.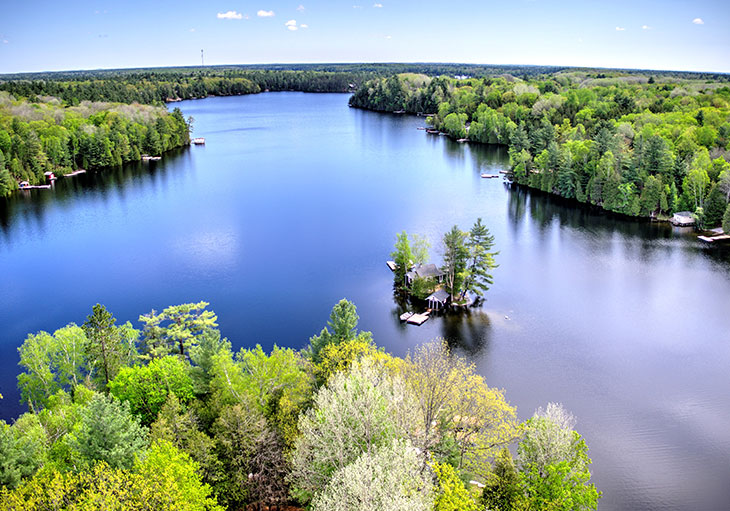 Water Levels
Crystal Lake is primarily a spring-fed lake, with a few small creeks in its watershed. Water flows out of the lake at its south end into Nogies Creek, which empties into Pigeon Lake on the Trent-Severn Waterway. A dam at the outlet on Crystal Lake manages water levels on the lake. Water levels normally begin to fall on Crystal Lake in the late summer through to Thanksgiving, and return to normal levels in the late spring.
Affordability
There is wide spectrum of properties available on Crystal Lake, from small three season cottages to large, modern Lake Houses. Prices are higher than average owing to its attractiveness as a recreational lake. There were nine MLS sales on the lake in 2022, only two of which sold for less than $1 million. Sale prices ranged from $640,000 to $2,400,000. Refer to our market value update section for more detailed information on prices and market activity.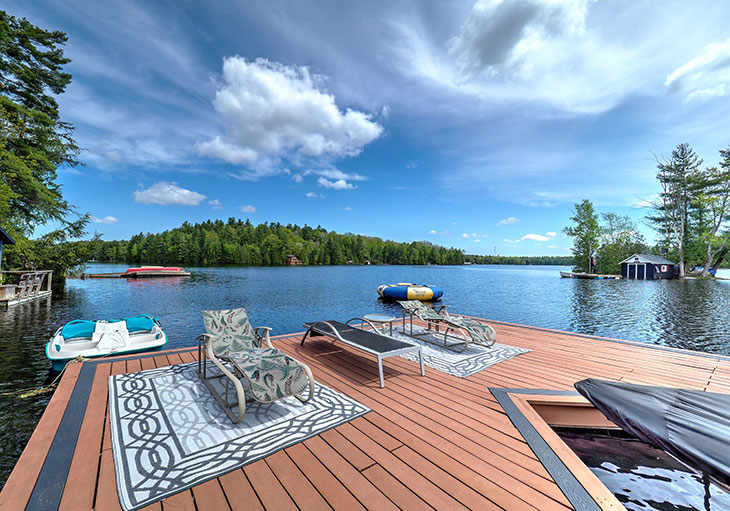 Recreation
Boating – Crystal Lake is an ideal lake for boaters as it has many miles of shoreline to traverse. Its many bays mean that waves do not become troublesome on windy days, which makes it ideal for watersports. There is even a waterski course on the lake in the summer months. There is also a full-service marina on the north shore.
Fishing – Crystal Lake is deep enough to provide good habitat for Lake Trout. Walleye and Bass are also caught on the lake.
Swimming – The shores of Crystal Lake are generally clean and weed-free, providing excellent dive-off- the-dock swimming.
Snowmobile/ATV Trails – The 5 Points Trail system provides tremendous snowmobiling and ATV opportunities and is easily accessed from Crystal Lake Road at the eastern end of the lake.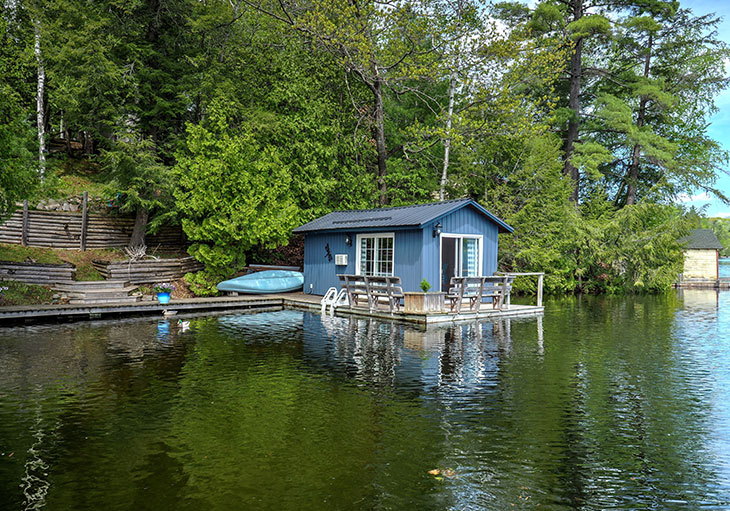 Bugs
Insect populations can be higher on Crystal Lake than on other lakes further to the south due to the numerous wetlands in the vicinity. Blackflies emerge in early May and usually disappear in a couple of weeks or after a few days of warm weather. Mosquitoes follow in late May and their numbers are reduced once the dragonflies hatch in June. You may see deerflies in July in wooded areas. Insect levels generally decline drastically in August, and the glorious days of September and October are usually bug-free.
Services
There is a convenience store at the Crystal Lake Marina. Otherwise it is a 20-30 minute drive to Kinmount for groceries and LCBO. Bobcaygeon and Minden are a 40-60 minute drive and offer a much wider selection of services and shopping.
Learn more about: