Spar Lake
Thinking of buying on Spar Lake? Our guide to Spar Lake real estate below will help you decide if this is the lake for you! If it is, we would be happy to send you any new listings that come up. Just click here. We promise not to hassle you!
Pros:
Great for quiet and solitude
Stocked with trout
No motorized boats allowed
Cons:
Very small
Many properties are steep to the water
Few properties come to market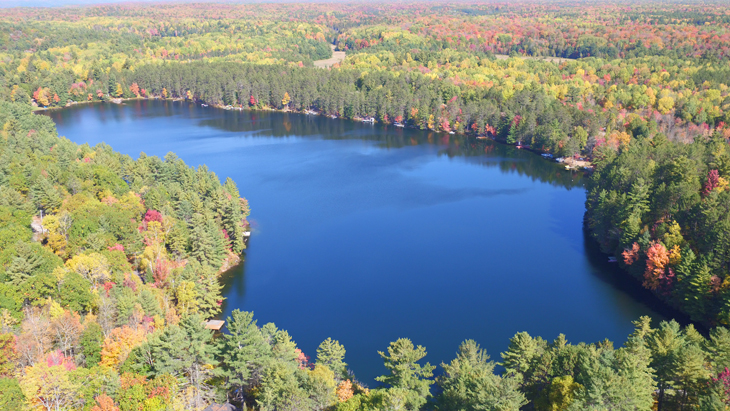 Geography
Spar Lake is located on the southern edge of Haliburton County, just a short drive north from Shadow Lake in the Kawartha Lakes. It is a small spring-fed lake, with a surface area of approximately 40 acres.
Spar Lake is located in the Precambrian region, and therefore has granite topography and shorelines (many of which are steep to the water) typical of Haliburton lakes. The maximum depth of Spar Lake is 60 feet.
Density
There are 50 waterfront properties on Spar Lake, the majority of which are used on a seasonal basis. Most lots are good-sized, with 100' of more of waterfront.
Affordability
Spar Lake is quite affordable, although the number of properties that come up for sale is small. There have been only four sales since 2020, at prices ranging from $325,000 to $355,000.
Recreation
Watersports – Paddling and kayaking are the primary watersports on the lake as motorized boats are prohibited.
Fishing – Bass and trout (which are stocked) are caught in Spar Lake.
Swimming – There is plenty of child-friendly wade-in shoreline around the lake. Deep-off-the-dock swimming for adults is more prevalent on the southern portions of the lake.
Bugs
Insect populations are typically higher on Canadian Shield lakes than on the limestone region lakes to the south. Blackflies emerge in early May and usually disappear once warmer weather arrives in early June. Mosquitoes arrive in late May reach peak numbers in June - their numbers are reduced once the dragonflies hatch. Deerflies come out in July. Insect levels generally decline drastically in August, and the glorious days of September and October are usually bug-free.
Services
Gas and basis groceries can be purchased in Norland (10 minutes). Coboconk (17 minutes) has a grocery, hardware and liquor store. Minden (30 minutes) has much more substantial shopping as well as a hospital.