Cottages, Properties & Waterfront Real Estate in Kawartha Lakes
If you're searching for Kawartha Lakes cottages or waterfront properties, then look no further than Kawartha Waterfront Realty. We have been selling real estate in the Kawartha region for over 10 years and everyone within our brokerage either lives or cottages on the waterfront.
Our buyer agents are very familiar with many properties and cottages for sale in the Kawarthas. They know the region and can effectively match you with the waterfront property or cottage that suits your needs and dreams. If you're after a private, out-of-the-way cottage location or an executive home with outstanding lake views – our agents can get you there.
When dealing with Kawartha Waterfront Realty you have a team of real estate agents, administrative staff, and marketing professionals who work on your behalf. With this level of support you can be certain that you will have the best chance to find that dream cottage, or sell the cottage you've owned for many years and move on to the next stage of your life.
It is clear that Kawartha Lakes cottages and waterfront properties are increasingly being sought after by those buyers wanting to relocate or spend some recreational time in this beautiful area. When it comes time for you to make the leap into Kawartha Waterfront – give us a call... we're just a loon's call away!
We service all of the Kawartha Lakes and Haliburton.
Our market area includes:
• All lakes in the Kawarthas Region of the Trent-Severn Waterway, from Balsam Lake to Stony Lake;
• The many beautiful lakes that are off the TSW, from Head Lake in the west to Jack Lake in the east;
• The rugged lakes of Haliburton.
Search Waterfront Listings in our Market Area or anywhere in Canada with our NEW interactive MLS® Catalogue!
To start searching, choose the area you are interested in:

Members of the Aventure Realty Network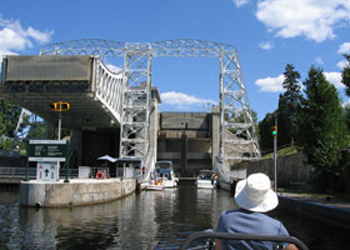 2014 Hours of Operation
May 16 to June 19
Monday to Thursday
Opening: 10:00 a.m.
Last lockage: 4:00 p.m.
Friday to Sunday
Opening: 9:00 a.m.
Last lockage: 5:00 p.m.
June 20 to September 1
Monday to Thursday
Opening: 9:00 a.m.
Last lockage: 5:00 p.m.
Friday to Sunday and Holidays
Opening: 9:00 a.m.
Last lockage: 6:00 p.m.
September 2 to October 13
Monday… Read more >>
If you own land that borders the shore of a navigable lake you may have certain rights known as riparian rights.
Read more >>
Working with Kawartha Waterfront Realty was a great experience right from our initial consultation to closing! Prior to listing, we noticed the many properties which were sold through KWR. That spoke volumes to us. Although our home…