The Kawartha Trans Canada Trail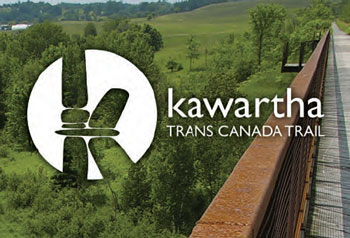 In 2006, the Friends of the Trans Canada Trail group was established. Its mandate was to determine if the residents of the City of Kawartha Lakes wanted a Trans Canada Trail. The response was overwhelmingly positive and plans were started to bring the Trans Canada Trail to the City of Kawartha Lakes. By 2008 the land was leased by the newly created not for profit, charitable organization called the Kawartha Trans Canada Trail Association. Work started on the trail and it was registered as part of the national Trans Canada Trail system, part of the longest trail in the world.
Trail Features
The entire trail is linear and the majority of it is handicapped accessible. Various services are available where it passes through urban areas.
Five Core Uses:
Hiking/Walking
Cycling
Horseback Riding
Cross Country Skiing
Snowmobiling
Hiking
The entire trail is open to foot travel.
Cycling
The east section of the trail is 24 km long and is constructed with packed limestone screenings that should provide no difficulty for most bikes.
Skiing
The entire trail is open to skiing. However it is very flat and is also open to snowmobiles.
Wildlife Watching
The trail is a good place to see songbirds, but other wildlife have been spotted on the trail – wild turkeys, white tail deer, beaver, rabbits and other small animals.
Grades
Flat with occasional very gradual grades.
Ecosystem
Mixed young forest, wetlands, rivers, streams and open areas, local agriculture (grain crops, livestock – horses, sheep and cattle), and small towns.
Other Points of Interest
Large trestle bridge, bridge over Pigeon River, Rock and Roll Museum, historic sites, schools, Omemee beach, shops and Reaboro Community Park and various services and restaurants along the route. The glacial drumlins, eskers and moraine hills frame the trail by Omemee, while active farmland is located as you approach Lindsay.
Future Plans
Kawartha Trans Canada Trail is a dynamic, evolving trail. Check their website regularly for information about trail conditions, special events, new trail facilities, expansion (route through Lindsay, west section), nature and culture interpretative guides at www.kawarthatranscanadatrail.ca