Marine Hazard Marking on Balsam Lake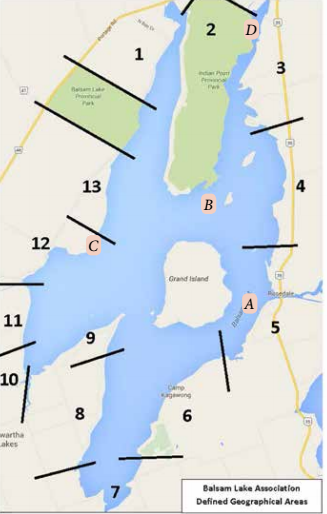 For the last five years, the Balsam Lake Association (BLA) has been diligent in marking four marine hazards that are not far from the Balsam Lake main navigation channels. Of course, there are many other marine hazards so boaters must refer to Transport Canada Marine Navigation Charts, which detail the topography of the lake and river bottoms. BLA Hazard Marks are installed by volunteers just before the Victoria Day weekend and are removed immediately after Thanksgiving. The marks conform to Transport Canada Private Buoy Regulations. They are yellow with a reflective band. The association annotates the marks with its name or its website address. If you find a mark adrift, please contact the BLA. The BLA has drawn attention to four marine hazards, which you will find on the map available on the BLA's website.
They are:
A. Togo Rock – southeast of Grand Island, with three buoys installed in a triangular formation outlining an island of rocks, just inches below the surface
B. Grand Rock – approximately 200 metres north of Grand Island, marking an island of rocks just at the surface
C. Mackenzie Point – indicating the shallow portion of the shoal running south of Mackenzie Point
D. North Lightning Point – marking the shallower part of the shoal which runs east of the navigational channel leading toward Coboconk.
If you are aware of other sites that may warrant a hazard indicator, please contact the Balsam Lake Association. Please keep in mind that the association needs a volunteer to install and remove the buoy that indicates a marine danger each season.
You'll also find the map shown above here.
For details, please visit www.balsamlakeassociation.ca or email balsamlakeassociation@gmail.com.