Kawartha Highlands Provincial Park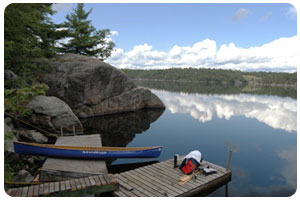 Kawartha Highlands Provincial Park was founded in 2003 and is located only 200 kilometres (120 miles) northeast of Toronto. From Ontario Parks:
"The Kawartha Highlands Signature Site Park Act, 2003 (KHSSP Act) establishes the primacy of protecting the ecological integrity of the park, protects traditional non-industrial activities, provides greater private property assurances and establishes a Management Advisory Board that will have a substantial role in management planning and implementation. This Act is based substantially on the recommendations provided to the Minister from the Local Stakeholder Committee, with further inclusions to address other stakeholder concerns."
The Kawartha Highlands serves as the headwater region for the Mississauga River which winds for 15 km ending at Lower Buckhorn Lake. As a natural environment park Kawartha Highland's focus is the protection of its landscapes and natural surroundings however some wilderness activities include:
Canoeing
Fishing
Boating
Hunting
Snowmobiling
Ice Fishing
Camping
Wildlife Viewing
Winter Camping
The assorted landscapes and topography makes for a large variety of wildlife. Many different species of mammals and birds call the park home including:
Black Bear
Moose
Deer
Eastern Wolves
Coyote
Beaver
Marten
Mink
River Otter
Great Blue Heron
Osprey
Common Loon
Common Nighthawk
Warblers
Sparrows
Ring Necked Ducks
If your looking for a classic Canadian wilderness experience in a remote environment, without travelling too far north in Ontario, Kawartha Highlands Provincial park may be for you. Petroglyphs Provincial Park is also nearby for those who want to extend their trip.